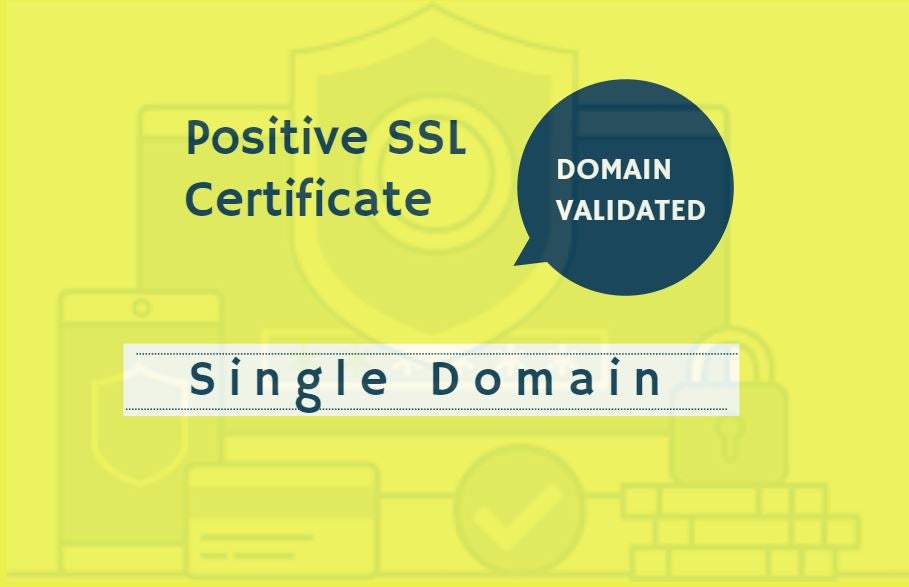 SECTIGO PositiveSSL  (Low Cost-Single Domain)
Sectigo Positive SSL offers the basic SSL security to your website in a quick time less than 30 minutes. Positive SSL gives the full https protection to your website at a very low cost. It has a hassle-free validation process to get your SSL on time. In addition, Positive SSL includes a warranty of $10,000.
Specification:
PKI Standard – X.509

Algorithm – SHA-2

Encryption Strength – Up to 256 bit

CSR Encryption Bit – 2048

Validation Type – Domain Validation

Product Type – Single Domain
Key Features:
Warranty - $10,000

Browser Compatibility – 99.3%

Reissuance – Unlimited

Additional Service Licenses – Free of cost unlimited servers

Trust Logo – Positive SSL Trust Logo

Refund Policy – 25 days

Support – 24/7 Chat, Email & Phone Support
 * IMPORTANT NOTE:
If you opt for 2 years, certificate will be issued initially for 13 months(397 days) to comply with the latest browser security requirements. The remaining term will be reissued free of cost when the expiry date is within 30 days.

We will send you email reminder starting 30 days before it's time to update your certificate. Just follow the instructions in the email to re validate your domain and reissue the updated certificate.