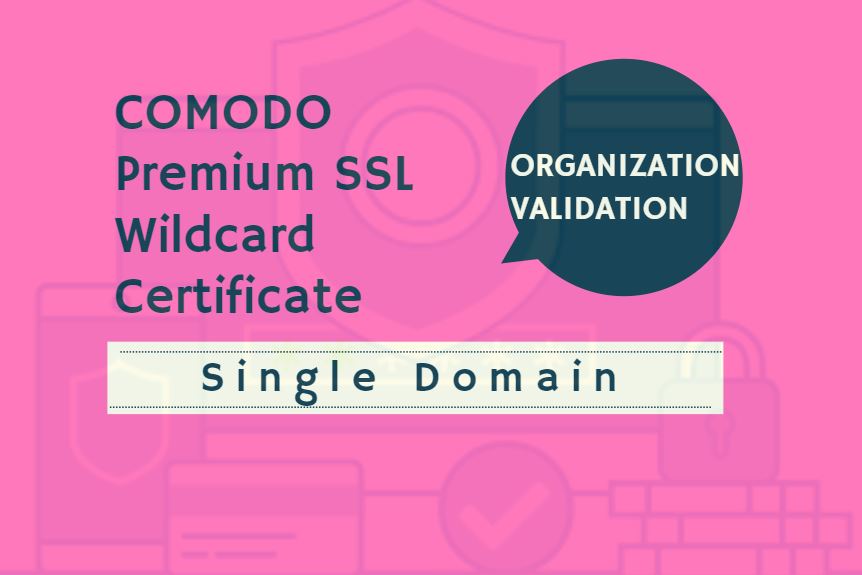 SECTIGO OV Wildcard Certificate (Business Validation-Unlimited sub-domains)
SECTIGO OV Wildcard Certificate is an organization validation SSL that effortlessly secures your primary domain and unlimited sub-domains. SECTIGO OV Wildcard has the high security standard by including organization validation that prove the legitimacy of your company.
SECTIGO OV Wildcard Certificate is a cost effective and efficient means of securing all sub domains without the need to manage multiple certificates
SECTIGO OV Wildcard includes high warranty of $250,000. Don't worry if you have the sub-domains spread over different servers, SECTIGO OV Wildcard can be installed on unlimited physical servers without any extra cost.
Get SECTIGO Wildcard for *.yourdomain.com and it secures ANYTHING.yourdomain.com.
What does Wildcard secures?
*.mydomain.com
*.secure.mydomain.com
What is not allowed?
*.*.mydomain.com
mydomain.*
secure.*.mydomain.com
Specification:
PKI Standard – X.509

Algorithm – SHA-2

Encryption Strength – Up to 256 bit

CSR Encryption Bit – 2048

Validation Type – Organization Validation

Product Type – Primary Domain & Unlimited Sub-domains
Key Features:
Warranty - $250,000

Browser Compatibility – 99.3%

Reissuance – Unlimited

Additional Service Licenses – Free of cost unlimited servers

Trust Logo – Sectigo SSL Trust Logo

Refund Policy – 25 days

Support – 24/7 Chat, Email & Phone Support
If you opt for 2 years, certificate will be issued initially for 13 months(397 days) to comply with the latest browser security requirements. The remaining term will be reissued free of cost when the expiry date is within 30 days.
We will send you email reminder starting 30 days before it's time to update your certificate. Just follow the instructions in the email to re validate your domain and reissue the updated certificate.