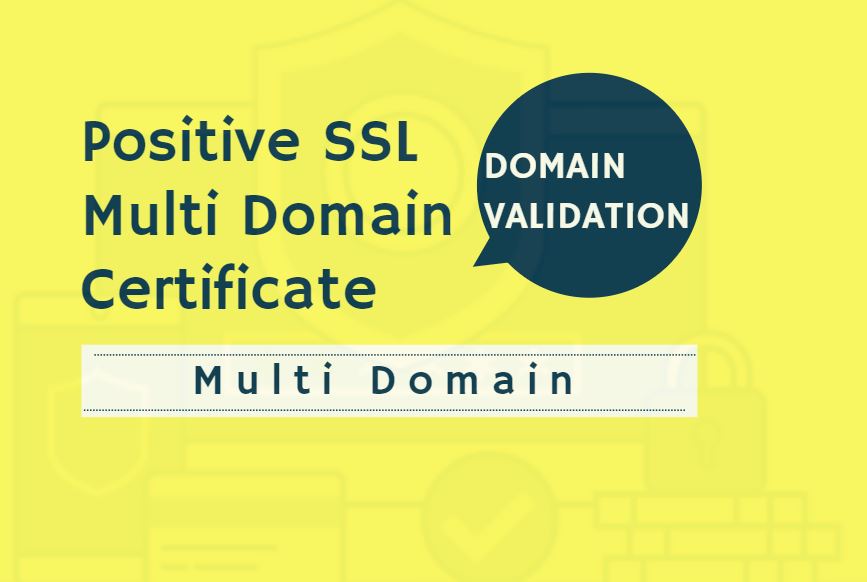 Positive SSL Multi Domain Certificate
Positive Multi Domain SSL (Low Cost-Multiple domains)
Multi-Domain Certificates are the same as Website certificates that they can contain more than one domain name or, allow for the encapsulation of multiple domains within a single SSL certificate. Through a single Certificate you can secure as many sub domains belonging to a specified domain name as you can use. The basic price includes 3 domains.
The biggest market where these will be required is Shared Hosting environments (were many domains have the same public IP address). A Multi-Domain certificate resolves the name mismatch issues seen when traditional (only one name per certificate) SSL certificates are used.
What does Multi Domain SSL secures?
domain-one.com
login.domain-one.com
mail.domain-one.com
anything.domain-one.com
domain-two.com
login.domain-two.com
mail.domain-two.com
anything.domain-two.com
Specification:
PKI Standard – X.509

Algorithm – SHA-2

Encryption Strength – Up to 256 bit

CSR Encryption Bit – 2048

Validation Type – Domain Validation

Product Type – Secures different domains and sub-domains
Key Features:
Warranty - $50,000

Browser Compatibility – 99.3%

Additional Domains – Secures multiple SAN at extra cost

Reissuance – Unlimited

Additional Service Licenses – Free of cost unlimited servers

Refund Policy – 25 days

Support – 24/7 Chat, Email & Phone Support